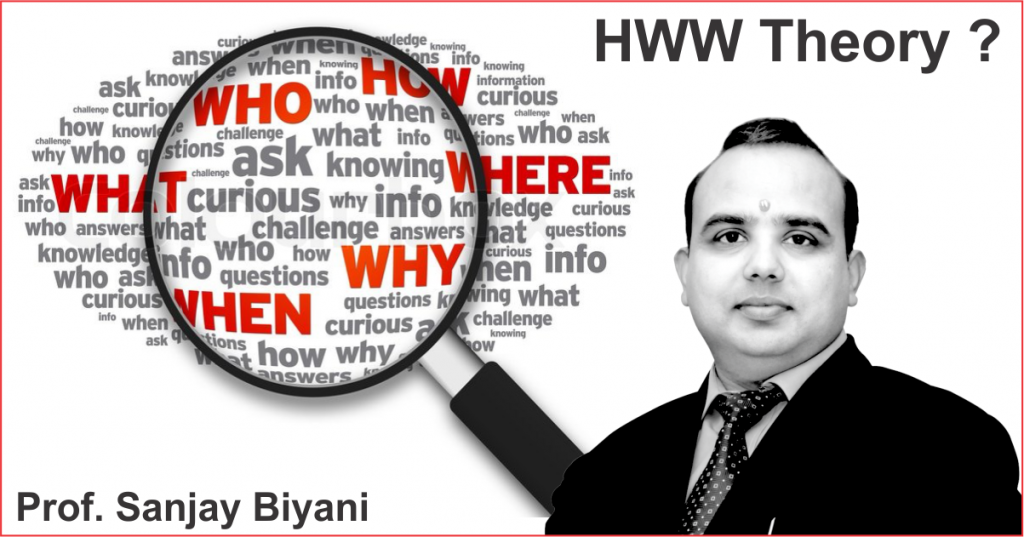 What is HWW Theory?
With my 22 years of experience in education field I have realized that many people study but very few really know the right method of studying, many people eat but very few people actually know how to eat properly and similarly everyone can speak but only few know the right way of speaking. That means everything depends literally on the approach. It's just like, when a farmer is cutting the tree and have forgot to sharpen his axe. That means he is putting his all hard work but not smart work. Hence, this HWW Theory is actually a concept based study. It deals with how to study and it mainly deals with quality of study and not quantity of study.
What are the implications of HWW Theory?
In society there are three types of people:
The first category is of the people who focus more on "How". For example, a waiter doesn't know why he is doing what he has been told to do, similarly a nurse who is trained for providing patients necessary medicines and assistance whenever needed but don't realize why she is doing the same.
Such people learned how to do but also don't realize why they are doing it and also don't bother to find the same.
Second category is of those who focus more on "what". They have explored and gain a lot of knowledge and have become managers and supervise others.
The third category is of entrepreneurs who focus on "why". They always keep on exploring why they are doing things and hence such feelings generate immense amount of confidence. They have improved learning and grow with a habit of associating things with concepts.
How much applicable is HWW Theory with respect to career?
Whatever career one opts and if associates it with "why" then one can be an entrepreneur in that specific career. Similarly, if somebody has a personality of supervisor and is not much enthusiastic to grow beyond that can focus on "what" part and can become supervisor or managers. Those who are not much as pirates and bears low thinking ability can focus on "how" part and can be good in delivering what is told to do.
How can one adopt "why" focus in life & become successful?
First of all we need to understand our wind, which is very magical and efficient. It is top of the head. In men its weight is 1.5 kg and in women it weight about 1.4 kg. And it has two parts right side and left side. Left side knows mathematics and logical ability. Right side is known for understanding & generating creativity & innovation.
For example, if one is listening to a song, the left side of the brain traces the wordings of the song whereas the right side of the brain grasps the music. Sometimes people remember the music & can't recall words of the songs and few recall words but don't remember the music. And some have the ability to recall both music & word altogether. Therefore, it means that their both sides of the brain are quite active.
Brain consumes only 2% of the body weight & 20% oxygen & blood is consumed by the brain. Brain is the most powerful tool, we need to nourish our brain, with good knowledge along with oxygen, blood & other essential then we can create remarkable innovative things with it.
Have you ever been in your life in that stage where you thought "how", "what" and finally when you attained success do you thing actually "why" for things?
Exactly, whatever I shared is based on my learning experiences. When we were in 9th, 10th standards our father always told us "work hard till you achieve success" and we followed it completely and realized that it stands true. We learned & crammed things & were on "how" phase. Later when circumstances changed and we realized our self, we started focusing on "why" and felt surprised why we were earlier focusing on "how" and realized how it added to our troubles. From the day we started focusing on "why" till now and we have attained whatever we aspired for and gained a lot of confidence and enthusiasm to work. Therefore, I would like to address our youths and tell them that they should also focus on "why" and try to relate things with concepts, and then only you can learn well and hence will grow well.
How to restructure our belief and how to change our thinking pattern?
Whatever you aspire, you can attain but for that you have to properly utilize your heart & brain. You have to give preference to "why" in spite of "how" and "what" and then you can be successful in all means.
Author:Dr. Sanjay Biyani