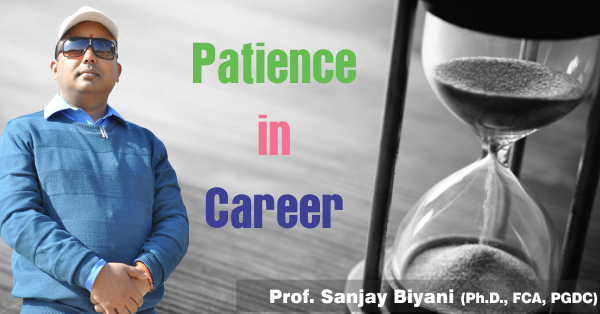 Now a day's everywhere in every field we feel and hear about competition. Is actually competition play an important role in career?
Both schools and colleges are main platform for students where every time they face competition. Competition has become an integral part of our life. In fact, whether we should compete or not is a main matter of concern in our life. Based on my personal experience, I found that competition bears two dimensions:
1. One is for being best and topper.
2. Second is to become excellent and adaptable for improving, so that we can compete with ourselves.
Therefore, in the first type where we want to become best, there is saturation and it cannot be sustained forever. The real meaning of competition has to be properly understood, as in competition there is a feeling of jealousy and it develops the feeling of inferiority complex. Therefore, I feel if we want to compete with we should compete ourselves. So that we can gradually improve and there will be rapid excellent transformation of ourselves.
If 50 students in a class are ranked on the basis of merit then how can they be convinced with the idea of not competing with others but with our self?
If we want to top in the class that can be attained once and it's also a fact that the success is actually not the best performance of the student. But if one competes with oneself then we can enhance their skills and caliber gradually. Secondly, now a day's students just for the sake of competition have grown up with a jealous attitude. They don't share their study material, information and knowledge with others. They are in a real rat race of defeating others and harming their personal growth. Healthy competition with oneself is of utmost importance because everybody is blessed with specific skills, some can be good in singing, speaking, learning etc. therefore, everybody's potential can't be matched for any type of specific competition. Life is not limited to a 100 meter race only but it is a long marathon and if anybody runs fast we should not feel jealous as it is a lifelong race we can't waste it by enhancing the feel of jealousy and inferiority complexes. We have to be open in accepting that if others are good in something we can learn from it.
How can we train our students for competition with self and how can they determine that their performance is improving every day?
Every year I visit approximately 100 schools and I have always noticed that students are provided with only bookish knowledge and there is no focus on their personality development. 10 years ago when we established our institution "Biyani Group of Colleges", the main focus and concern was to develop students' personality, creativity and power of expression.
In our society from the very beginning getting a good job has been focused and the thought of becoming entrepreneurs have never been welcomed.
If the personality and attitude development will be focused in all educational institutions' then our youths can be active contributors in the development of the nation.
What should be the main criterion while choosing a college for higher studies?
That institution which focuses on both knowledge and personality development of a student must be opted for higher studies. Steve Jobs, Bill Gates etc. didn't focus on bookish knowledge only, but on the overall development of their personalities.
Therefore, I believe while selecting an institution we should focus on the:
1. Personality development programmes.
2. Branch or stream according to interest.
3. Ranking of the institution for the development of the personality and learning according to interest.
How should one select an institution?
Whenever one is opting for an institution one should do a complete research beforehand for the same. As now all information is available on the campus website of every institution. The students should go through it thoroughly and then personally should visit the campus and meet the director and principal so that he can understand their vision and perspectives for students.
I think more than the infrastructure, the teachers and resource person are important and hence they can contribute in developing your personalities. Therefore, focus on an institution vision behind rather than the infrastructure behind the project.
Dr. Sanjay Biyani(Dir.Acad.)
To know more about Prof. Sanjay Biyani visit www.sanjaybiyani.com